"The total solutions provider of industrial refrigeration systems."
Affiliations

"TRACE International Inc. (TRACE) has successfully completed a TRACE Standard due diligence review of Ameresco Commercial & Industrial Company, Inc.. TRACE has granted Ameresco Commercial & Industrial Company, Inc. a certificate of membership signifying the company's commitment to transparency in international commercial transactions.
TRACE is a non-profit membership association that pools resources to provide practical and cost-effective anti-bribery compliance solutions for multinational companies and their commercial intermediaries (sales agents and representatives, consultants, distributors, suppliers, etc.). TRACE provides several core services and products, including: due diligence reports on commercial intermediaries; model compliance policies; an online Resource Center with foreign local law summaries, including guidelines on gifts and hospitality; in-person and online anti-bribery training; and research on corporate best practices. For multinational companies, TRACE provides a practical and cost-effective alternative to increasingly expensive and time-consuming corporate compliance. For commercial intermediaries, TRACE offers a marketing advantage by creating a bridge between them and companies doing business internationally. For more information about TRACE, please visit www.TRACEinternational.org."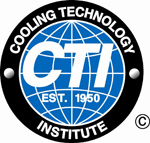 As stated in its opening paragraph, CTI Standard 201... "sets forth a program whereby the Cooling Technology Institute will certify that all models of a line of water cooling towers offered for sale by a specific Manufacturer will perform thermally in accordance with the Manufacturer's published ratings..."
By the purchase of a "certified" model, the Own/Operator has assurance that the tower will perform as specified. Either that model, or one within its model line, will have been thoroughly tested by the single CTI-licensed testing agency for Certification and found to perform as claimed by the Manufacturer.
Copyright © 2015 by Ameresco Commercial & Industrial Company, Inc. All rights reserved.